If you are a fan of big, bold red wines, you want to know Tannat. It may just be your new favorite grape!
Let's start with a bit of history. Long believed to have originated in Basque country, Tannat is a red wine grape most closely associated with the wine region of Madiran. Situated in southwest France, about two hours south of Bordeaux at the foothills of the Pyrenees Mountains, the terrain is rough and rugged here where the grape has grown for centuries. The finished wines have a sense of this rustic quality. Expect deep, dark, dry and tannic qualities in any Tannat wine. In fact, due to this richness, French kings accepted Madiran wines as payment for taxes during the 17th and 18th centuries. 
The thick-skinned Tannat continues to grow in the Basque Country, most notably in the tiny appellation of Iroulèguy, on the Spanish border. In 1870, Basque immigrants took the grape to Uruguay in South America where it adapted perfectly to the soils and warm climate. Known as the National Grape of Uruguay, Tannat makes up 1/3 of the wine produced in this tiny country. With approximately 14,000 acres of the grape planted in the world, Uruguay grows 44% of the vines. This is more than is grown in it's native France. You may be surprised to learn, there are over 16 million acres of wine grapes grown in the world today, and Tannat makes up less than 1%.
So who makes Tannat wines? While it originated in France and enjoys an allstar status in Uruguay, you may also find this grape in Argentina, Brazil, Peru, Bolivia, South Africa, Italy's Apulia region — and in Texas. In the 19th century, Tannat was imported to California. In 2002, the United States approved the grape, which means it can be used to make a single varietal wine and note the wine as Tannat on the label. About four years later, it was planted in the Texas High Plains. And just a couple of years after, experimental vines were planted in the Hill Country. 
Today it is Dr. Bob Young of Bending Branch Winery in Comfort and John Rivenburgh of Kerrville Hills Winery who are credited with championing Tannat as having the potential of being one of the best grapes for Texas. With an estimated 6,500 acres of wine grapes planted in Texas, Tannat is thought to now be the 10th most planted variety at about 150 acres. As wine lovers learn more and more about these wines and their popularity grows, we may see more planted in Texas, and other regions.
There are many different factors that can help a wine to gain more popularity among wine drinkers. And for Tannat, one factor is its health benefits. That's right! Wine isn't just used to toast to your health, many believe it can actually boost your health. The Tannat grape has exceptionally high antioxidant levels. Polyphenols is a hot topic in health research and scientists are studying how these compounds, which are found naturally in wine grapes, can improve health. Derived from plant sources, polyphenols include hundreds of compounds deemed as beneficial to the body. Some specific polyphenols you may have heard of are phenolic acids, flavonoids, lignans, stilbenes and resveratrol. Studies show these micronutrients can alleviate and prevent oxidative stress, a culprit behind many chronic diseases. Specifically, resveratrol is believed to protect the heart, to slow the aging of the brain, and to fight pathogens, tumors and even some cancers. The polyphenol levels are so high in the Tannat grape specifically, that the wines are opaque and nearly black in color. With a third more polyphenols that the popular Cabernet Sauvignon, Tannat is one of the best sources for resveratrol and other polyphenols. Now there's a great reason to pour yourself a glass!
Depending on how the wine is made, styles can range from smooth, structured and fruity to bold, tannic and even abrasive. As a dense, dark grape, the wines are deeply colored, inky and robust. Most Tannat wines benefit from 5 to 8 years of aging to mellow out the tannins. It is traditional in France to blend Tannat with grapes such as Cabernet Sauvignon or Cabernet Franc to soften the tannins which can feel harsh and astringent. Blending can make the finished wine more approachable and ready to drink at a younger age, without the need to hold a bottle for years before opening. Other winemaking techniques can achieve a similar softening of the finished wine. This is a grape that can be used in small amounts to blend with softer wines such as Pinot Noir or Merlot to add some backbone and structure. 
Tannat makes decidedly robust wines, with pronounced aromas of smoke and plum with a hint of tar. This is followed by flavors of black currant, plum, licorice and cardamom. You'll find significant tannins that make your mouth feel dry. You may notice a spicy finish and high alcohol is typical. Those made in France tend to have a more lean flavors of red fruits similar to raspberry jam, while warmer climate wines will have a bolder mouth feel with dark fruit notes of black plum and blackberries. These wines are often best enjoyed after decanting for an hour and served in an oversized class. Tannat pairs exceptionally well with nearly every preparation of beef, sausage, game, grilled meats and root vegetables. The tannic nature makes it a fine companion with fatty or creamy sauces and the boldness of the wine makes it a surprisingly good alongside barbecue sauce which is vinegar based and often hard to pair.
Some of my personal favorite Texas examples are:
1. The 2017 Rustic Spur Tannat grown in the Texas Hill Country by Rustic Spur Vineyards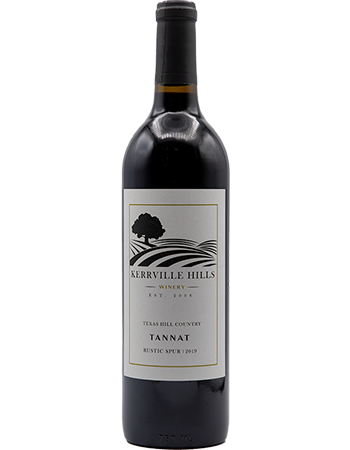 2. The 2019 Kerrville Hills Tannat grown in the Texas Hill Country by Rustic Spur Vineyards

3.The 2017 Bending Branch Tannat grown by the renowned Newsom Vineyards
4. The 2017 Ab Astris Tannat grown by Narra Vineyards.
You may enjoy comparing a Texas bottle of Tannat to those made in other regions. One of my personal favorite French examples is Chateau Barrejat Madiran Tradition, which is 60% Tannat and 40% of a combination of Cabernet Franc & Cabernet Sauvignon. From Uruguay, look for Bodega Garzon 2016 Reserva Tannat. Tannat first appeared on Wine Spectator's Top 100 Wines of the Year in 2017 when the 2015 Bodega Garzon Reserva was ranked #41. And for a bit more education on the wine region of Uruguay and the Tannat grape, look up the 2019 docuseries "It Starts With Wine" on Amazon Prime. The first episode is about Uruguay and the winery Bodega Garzon is featured.
In short, Tannat is a wine for bold drinkers. Someone new to wine may not enjoy this wine, on the other hand, it can be a great transition wine for folks who typically drink whiskey and other hard liquors. Remember, when you're offered a taste of wine, always give it a try, you may just discover a grape you didn't know before, and isn't that part of the fun?
Amie Nemec is a longtime wine lover, Sommelier, and founder of Perspective Cellars tasting room in Fredericksburg, Texas. She is now venturing down the path to learn winemaking, and is writing a book about her journey. Along with wine writing and food pairing posts, be on the lookout for Amie's wine and book in coming years!